Outsourcing in Latin America: Benefits and Challenges of Hiring
In the rapidly evolving world of technology, hiring IT developers has become critical for businesses worldwide. However, this process is fraught with challenges. Companies often find themselves in a difficult position, from the scarcity of skilled professionals to the high demand and competition for top talent.
Outsourcing allows businesses to access diverse global talent and a wider range of expertise. Yet, outsourcing is not without its own set of difficulties. Cultural differences, language barriers, and navigating foreign legal and tax regulations can pose significant hurdles.
This article delves into these complexities, mainly focusing on the Latin American IT market. It explores the benefits and challenges of hiring IT developers in the region, the burgeoning tech hubs, and the impact of game-changing technologies. The article also provides valuable insights and practical tips to navigate the IT hiring landscape in Latin America. Whether you're a startup looking to build your tech team or an established company planning to outsource your IT needs, this article offers comprehensive insides to help you make informed decisions. Let's embark on this journey to unravel the intricacies of IT hiring in LATAM.
IT Market Overview in Latin America
The Information Technology landscape in Latin America is undergoing a transformative period of growth and innovation. In recent years, this region has emerged as a promising hub for technological advancement, driven by several key factors that position it on the global IT map. This chapter will delve into the exciting developments and trends shaping the IT market in Latin America.
A Region Poised for Growth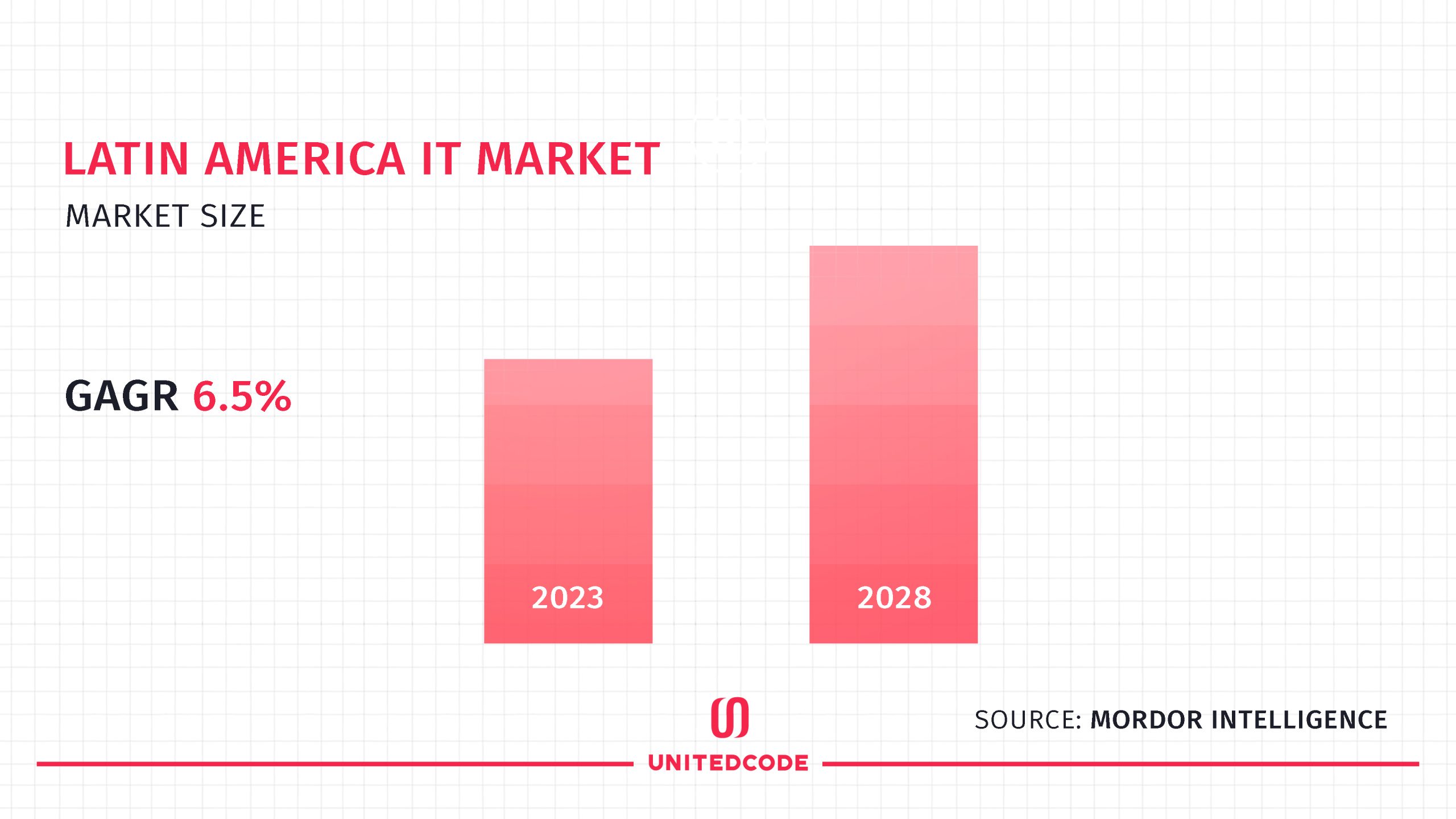 Latin America's IT sector is on a remarkable trajectory, poised for substantial growth with a projected Compound Annual Growth Rate (CAGR) of approximately 6.5% from 2023 to 2028. This expansion perfectly aligns with the global surge in IT spending, primarily driven by the widespread adoption of Software-as-a-Service (SaaS) and cloud-based solutions. The confluence of these factors paints a promising picture of sustained growth and abundant investment opportunities within the region's burgeoning IT landscape.
In a testament to Latin America's burgeoning tech scene, 2021 marked a watershed moment for the region's IT industry. According to data from Crunchbase, Latin America emerged as the world's fastest-growing hub for venture funding during that year. A staggering $19.5 billion was poured into the region through investments from venture capitalists and technology growth investors. This meteoric rise, which had been steadily building since 2015, experienced a dramatic surge in 2021, primarily influenced by the economic shifts caused by the COVID-19 pandemic. Latin America's ascent as a top investment destination underscores its status as a global IT powerhouse in the making.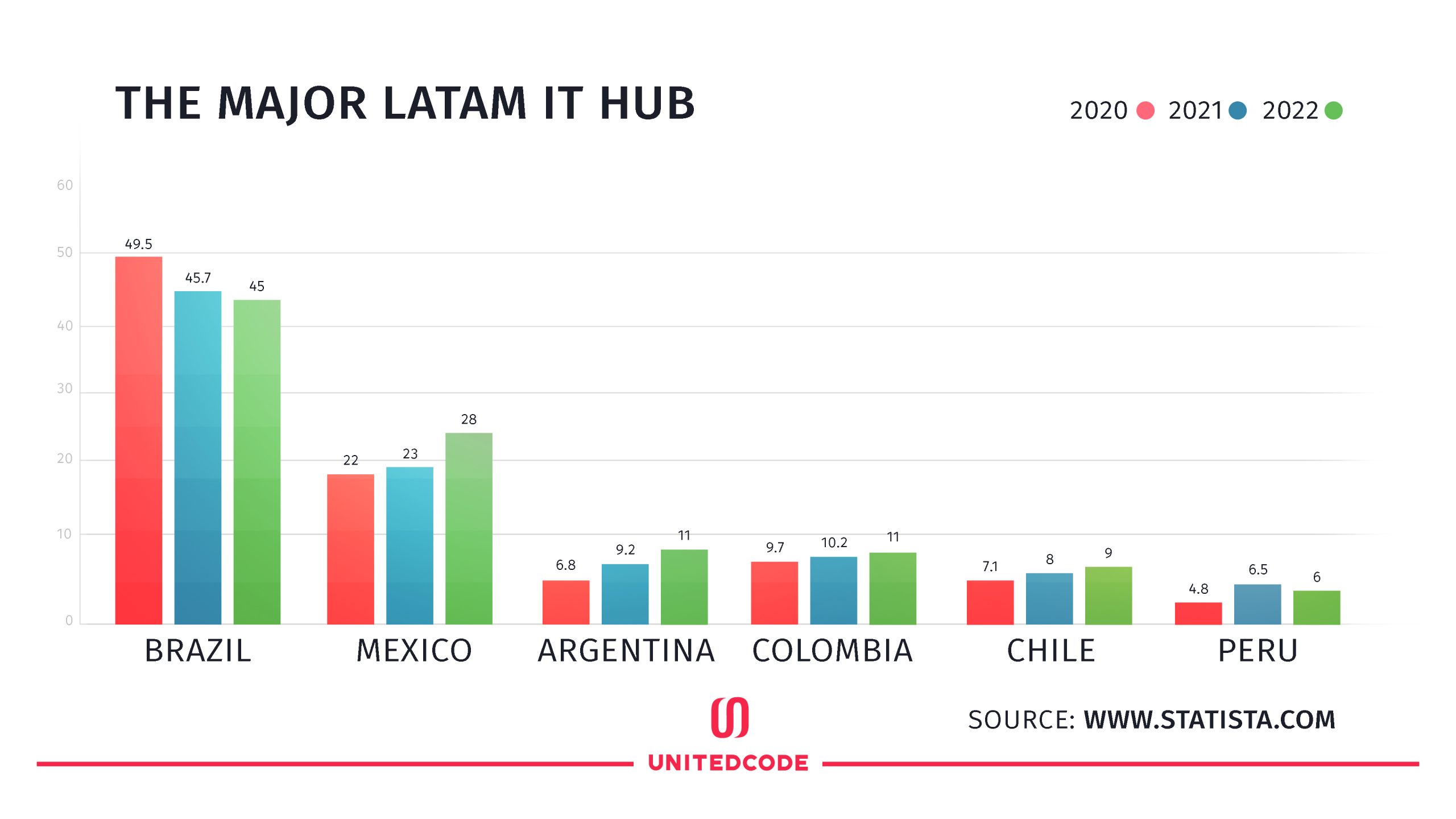 Brazil firmly seized the throne as the unrivaled champion in the dynamic landscape of the Latin American IT market in 2022. With an impressive total market value of $45 billion, Brazil set the gold standard and lit the way for IT growth throughout the entire Latin American region. As the largest economy in this vibrant landscape, Brazil assumed the role of a formidable catalyst, propelling the IT industry to new heights and setting the pace for innovation and progress across Latin America.
Technological Horizons: What Lies Ahead?
As we venture deeper into Latin America's IT market, we will explore these trends and developments in greater detail. The region's rich diversity, dynamic business environment, and burgeoning startup culture all contribute to its status as a hotspot for IT innovation. Join us on this journey as we uncover the vast opportunities and challenges that define the IT market in Latin America.
The Rise of the Gig Economy
In Latin America, a momentous shift has unfolded in the employment landscape, reshaping traditional work structures. The gig economy is experiencing an unprecedented surge in popularity, attracting a diverse array of individuals opting for freelance and contract work as their primary source of income. This transformation is particularly striking in the IT sector, where developers and technology professionals actively seize this opportunity to exert more control over their work arrangements and nurture entrepreneurial endeavors.
---
Gig workers in IT are freelance or independent professionals who offer their specialized IT services on a project basis. They provide flexibility for businesses to access specific skills and expertise while allowing IT professionals to choose their projects and work independently.
---
In Mexico, as reported by Forbes, this transformation is particularly pronounced, with approximately 14 million people already engaged in this mode of work, constituting a significant 33 percent of the country's workforce. Across Latin America, the gig economy is on an extraordinary trajectory, poised to burgeon from its 2014 valuation of US$14 billion to a staggering US$335 billion by 2025. These numbers underscore the sweeping impact of the gig economy, revolutionizing the nature of work and income generation across the region.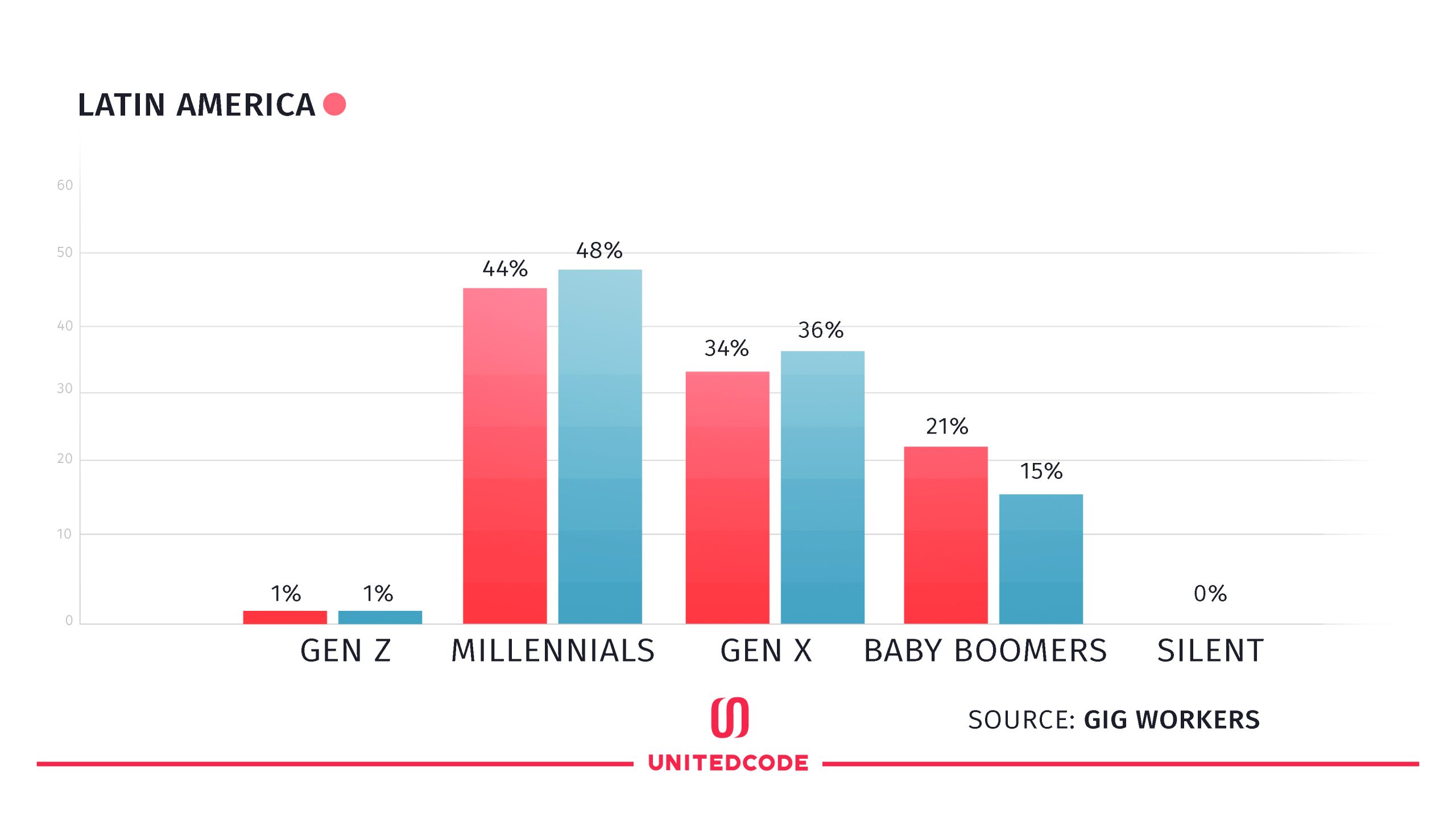 According to a study conducted by LIMRA in 2019, there were approximately 40 million gig economy workers aged 18 and over in the United States. This figure encompassed individuals who primarily relied on gig work for their income and those who engaged in gig jobs in addition to their primary employment. The gig economy has become a significant contributor to the U.S. labor force, offering flexible work arrangements for a substantial portion of adults. Latin America is no exception.
The Growing Significance of Data
Data is fast becoming the currency of the modern IT realm, and Latin America is no exception to this transformative trend. Businesses across the region increasingly realize the profound impact that data can have on gaining a competitive edge. This recognition acts as a catalyst, driving innovation and fostering growth across various industries.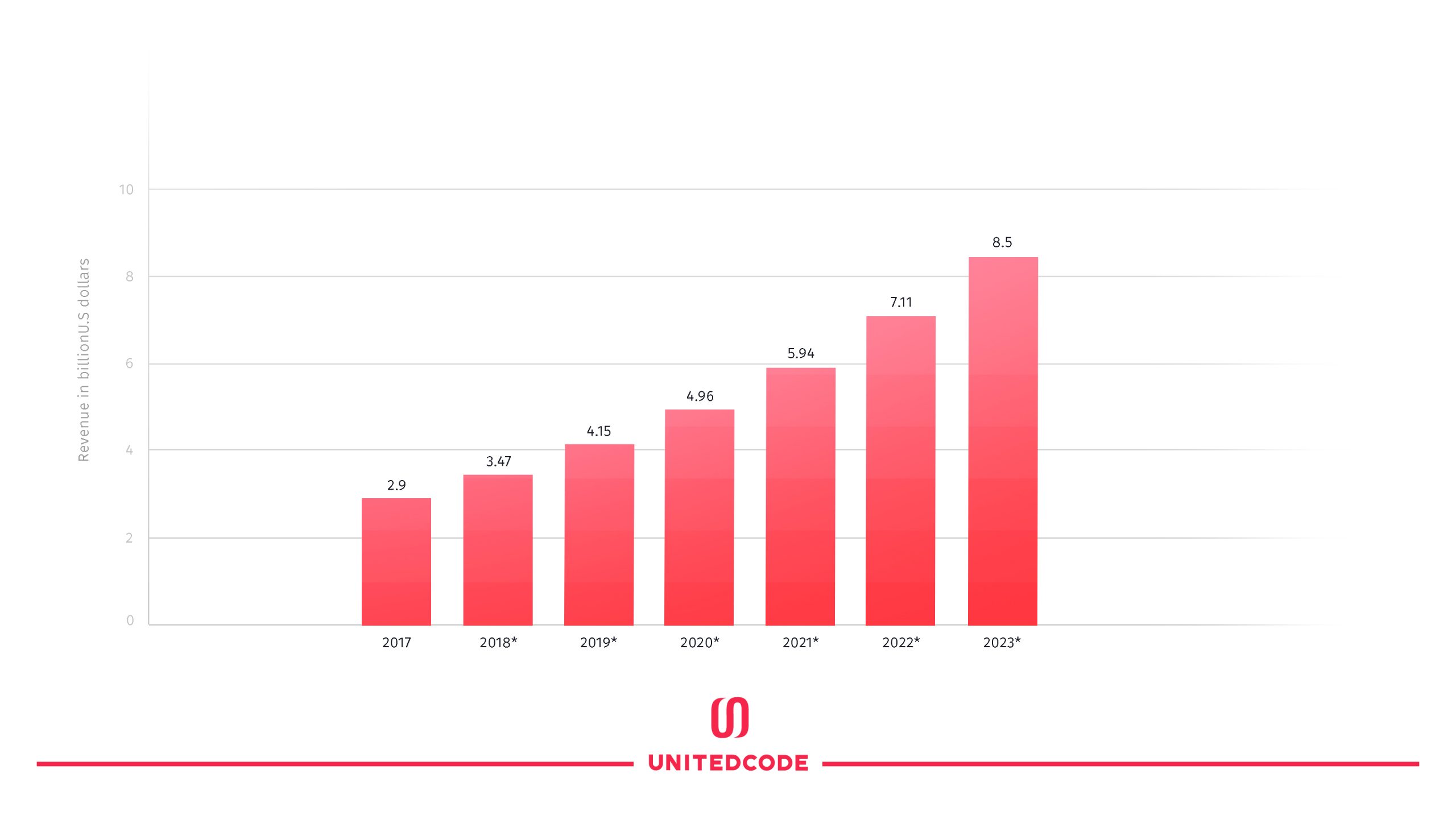 Latin America's big data and analytics market has been on a remarkable growth trajectory. It surged from generating $2.9 billion in revenues in 2017 to an impressive $4.96 billion in recent years. Projections indicate that this momentum will continue, with the market forecasted to reach an even more substantial $8.5 billion by 2023. This substantial growth underscores the escalating importance of data in shaping the future of business and technology in Latin America.
The Ascendance of Artificial Intelligence
Artificial Intelligence (AI) is unmistakably establishing its dominance on the global IT stage, and Latin America is enthusiastically embracing AI-powered solutions to elevate operational efficiency and automate tasks. Within the region, there is a pronounced and fervent demand for AI-driven solutions underpinned by a desire among companies to deepen their understanding of their customers and optimize engagement strategies.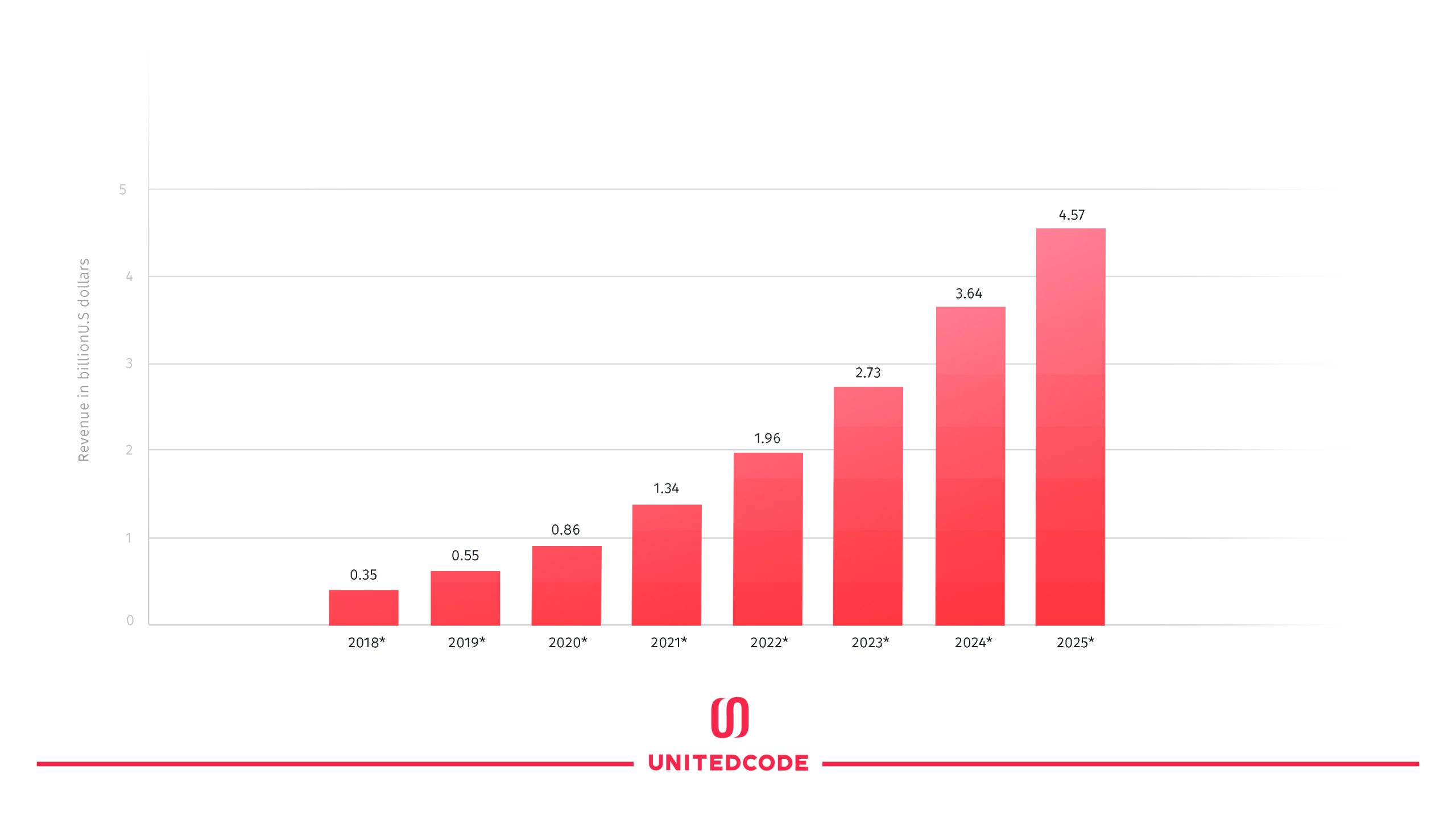 In 2021, the AI software market in Latin America was forecasted to generate revenues of approximately $1.34 billion U.S. dollars. In contrast, the global AI market boasted a staggering estimate of nearly $35 billion. Artificial intelligence is used in various sectors, including consumer, enterprise, and government.
The Emergence of Game-Changing Technologies
In the ever-evolving IT industry landscape, Latin America is at the vanguard of embracing transformative technologies that promise to reshape our lives and work. Prepare for a continual surge of groundbreaking innovations, such as blockchain, the Internet of Things (IoT), and the emergence of 5G networks. These technologies are set to play a crucial role in shaping the future of the IT sector in the region. I will ensure the text is free of spelling, grammar, or punctuation errors.
Blockchain: Blockchain technology is rapidly gaining ground across Latin America, demonstrating its versatility through various applications. From cryptocurrencies like Bitcoin and stablecoins to addressing issues such as inflation and banking the unbanked, facilitating low-fee remittances, enabling decentralized finance (DeFi) applications, powering play-to-earn games, and much more, blockchain is reshaping financial and technological landscapes.
Internet of Things (IoT): The Internet of Things is experiencing rapid growth throughout the region. In 2021, the total number of IoT connections in Latin America reached a substantial 791 million, with projections indicating an expansion to 1.2 billion connections by 2025. This proliferation of interconnected devices is poised to revolutionize industries, enhance efficiency, and improve the quality of life for millions.
Internet of Things (IoT): The Internet of Things is experiencing rapid growth throughout the region. In 2021, the total number of IoT connections in Latin America reached a substantial 791 million, with projections indicating an expansion to 1.2 billion connections by 2025. This proliferation of interconnected devices is poised to revolutionize industries, enhance efficiency, and improve the quality of life for millions.
5G Networks: The advent of 5G networks transforms connectivity in Latin America. As of June 2023, the region saw the deployment of 28 5G networks, marking a significant leap into the next generation of wireless technology. Brazil and Chile led the way with four networks, while Mexico, Peru, and Puerto Rico followed closely with three 5G network deployments each. The widespread adoption of 5G promises to accelerate digital transformation and open doors to new possibilities in communication, healthcare, and automation.
Prominent Tech Hubs in Latin America
São Paulo: Situated in Brazil, São Paulo is a dynamic tech hub renowned for its substantial venture capital investments. This bustling city has become a startup magnet and earned a reputation as a fintech powerhouse. It's also the preferred Latin American base for major tech giants, including Amazon, Uber, and Spotify.
Mexico City: Boasting a population of over 22 million residents, Mexico City serves as a strategic gateway to the Latin American market for businesses. It boasts a burgeoning tech community and has successfully attracted companies like Netflix to establish their regional headquarters in the city.
Santiago de Chile: Recognized as 'Chilecon Valley,' Santiago thrives as a bustling tech ecosystem. The city offers equity-free investments through its innovative 'Start-up Chile' program, cementing its position as a global leader in supporting startups.
Buenos Aires: Buenos Aires emerges as a regional tech incubator and is celebrated for nurturing successful startups like Mercado Libre. Additionally, it's gaining prominence as a hub for blockchain and cryptocurrency companies, positioning itself at the forefront of emerging technologies.
Medellín: As Colombia's second-largest city, Medellín has witnessed a rapid surge in tech growth. It has effectively attracted tech giants such as Huawei and Tuya Smart to its Innovation District, fostering innovation and collaboration among startups.
The IT Specialists Market in LATAM
The demand for IT specialists in Latin America is surging, driven by an ever-expanding digital landscape and the region's increasing role in the global technology ecosystem. In this chapter, we explore the current state of IT specialists in Latin America, focusing on the most sought-after tech professions and the factors influencing this growing market.
Latin America's dev revolution
Latin America's tech sector is undergoing a transformative revolution, and one of the standout aspects of this evolution is the significant salary disparities between average earnings and developer incomes across different countries in the region. These disparities reshape the economic landscape and create unique opportunities for tech professionals. Below, we provide insights into the developer earnings in select Latin American countries, highlighting the notable differences.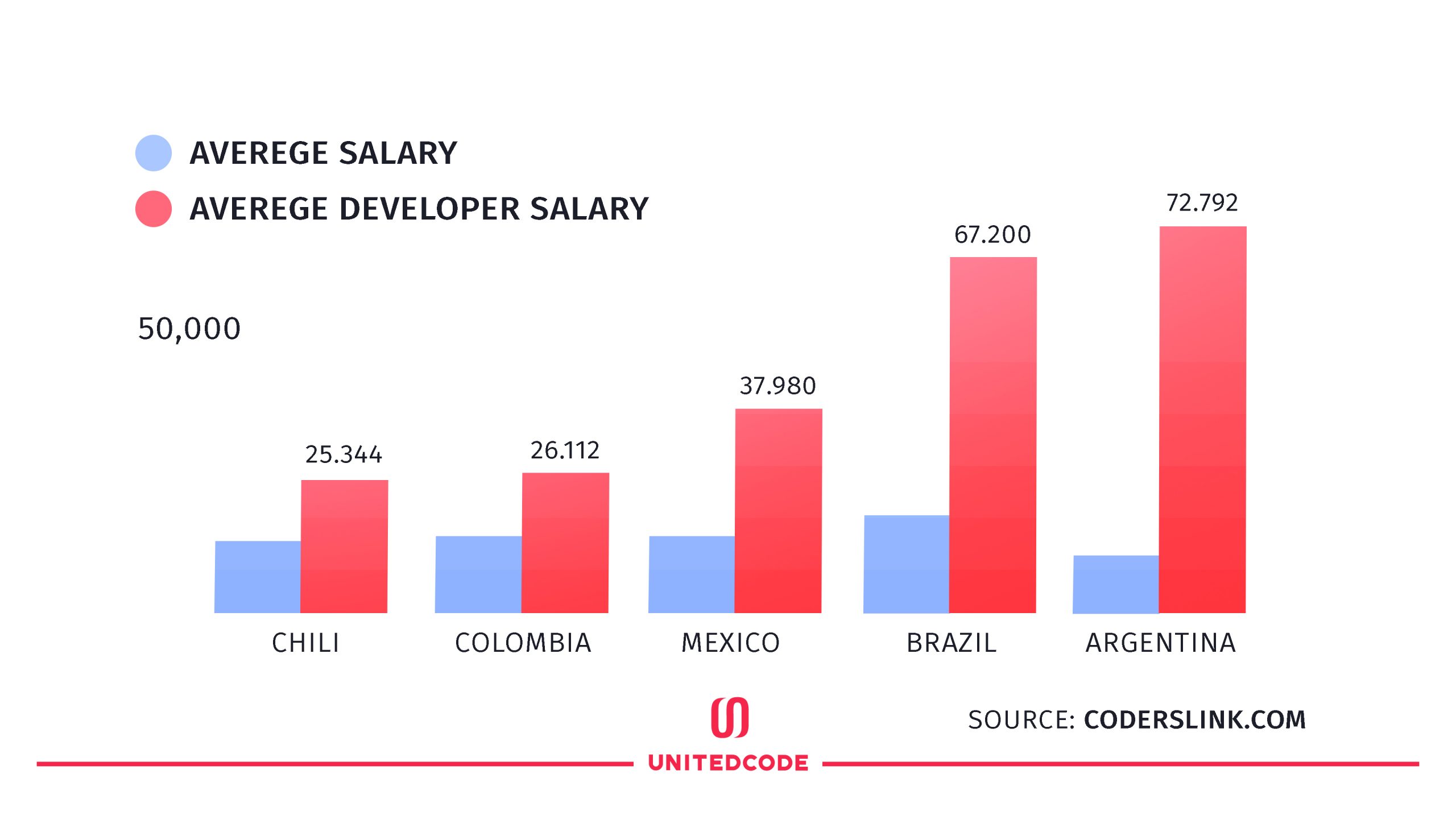 To learn more about optimizing software development on a limited budget, check out our article on Software Development With Limited Budget: The Way to Do It Right.
Growth of Software Developers in Latin America
Latin America is experiencing rapid growth in the number of software developers. The region boasts over 1 million developers, with this figure steadily climbing. Countries within Latin America are actively promoting tech skills, careers, and education to meet the escalating demand for IT specialists. Initiatives like Argentina Programa 4.0 offer free coding and digital skills training, focusing on placing individuals in tech companies to bridge the skills gap and alleviate poverty.
In-Demand Tech Professions in Latin America
In 2023, Latin America is witnessing a high demand for various technical specializations. The most coveted tech professions include computing experts, technology project managers, data analysis specialists, metaverse construction specialists, 5G specialists, blockchain professionals, software developers, and cloud architects or engineers.
The Tech Talent Shortage
Global hiring by tech companies in Latin America grew 286% in the second half of 2021 compared to the first half, a more significant jump than in Europe, Middle East, and Africa (+250%) or Asia (+227%). Moreover, Latin America has become a significant force in the global tech industry, with 156% more businesses wanting to hire in the region, particularly for software engineering roles.
This quickly turned the region into a spotlight, prompting its governments to introduce policies to empower the local tech talents to meet this demand. However, the tech talent shortage persists, indicating a need for further efforts to bridge this gap. This could include initiatives to boost tech education, promote tech entrepreneurship, and foster a conducive environment for tech innovation and growth.
Navigating the Cultural, Legal, and Tax Landscape in Latin America
Outsourcing software development to Latin America has become increasingly popular due to several key advantages:
Cultural Differences
Latin American countries have a strong cultural affinity with the United States, making business collaboration easier. There are no significant geographical differences, meaning cultural differences are fewer. Latin Americans are affectionate people who love hugs and accompany a kiss on the cheek with every saludo (hello and goodbye).
Legal Requirements
Most Latin American countries have adopted IP laws and regulations that comply with international standards and are signatories to international agreements protecting IP rights. However, it's important to note that each country may have specific labor laws and regulations that must be complied with. There are different types of legal structures in Latin America. When doing business in Latin America, it is helpful to know a bit about the business culture in the region.
Tax Regulations
Tax regulations across Latin American countries vary significantly, impacting the cost-effectiveness of doing business. It's essential to thoroughly understand the specific tax laws in the country you plan to outsource to. For example, Mexico has recently implemented labor and tax reforms that restrict the outsourcing of workers. These changes can significantly impact your business operations, so staying informed about tax regulations is crucial.
Insurance
As more consumers in Latin America access the tools of developed markets, such as bank accounts and smartphones, insurance becomes both more accessible and more necessary. It is already the fastest-growing regional insurance market globally — in both life and non-life segments—and it's among the most profitable markets for insurers globally. A PEO (Professional Employer Organization) can handle any insurance and health benefit plans you need but with significant cost savings.
Working Hours:
Colombia: The maximum legal ordinary working week is 48 hours, which can be distributed over 5 or 6 days a week. However, a goal is to reduce it to 42 hours per week by 2026, according to Law 2101 of 2021.
Mexico: The maximum working hours per week is 48 hours, although there is currently a proposal in the Chamber of Deputies to reduce it to 36 hours.
Venezuela: The working week is limited to 40 hours.
Argentina and Peru: The working week is limited to 48 hours.
Brazil: The working week is limited to 44 hours.
Vacations
In December 2022, the Mexican government introduced a new regulation that improves workers' annual leave. The amendment doubles the number of annual leave days from six to twelve, providing employees with more time for rest and leisure.
Remember, while there are many benefits to outsourcing in Latin America, it's essential to do thorough research and possibly seek legal counsel to understand all the implications fully.
How to find a developer in LA?
Finding IT developers in Latin America can be a rewarding but challenging process. Here are some difficulties and tips to navigate this process:
Difficulties:
Talent Shortage: The demand for tech talent is skyrocketing, but supply remains relatively scarce, fueling fierce competition between startups, established tech companies, and outsourcing giants for qualified workers.
High Demand: The number of software developers in Latin America is nearing a 1 million milestone. However, the demand from local companies and offshoring organizations looking for cheaper talent in the same time zones as U.S. companies is increasing.
Language Barrier: While most Latin American software developers speak English fluently, language can still be a barrier for some.
Cultural Differences: Cultural differences can sometimes pose challenges when working with teams from different countries.
Tips:
Research: Look into each Latin American country's talent pool and understand the specialties of tech workers in the region.
Local Universities and Tech Schools: Acquire knowledge about local universities and tech schools. They often produce high-quality IT professionals.
Job Boards: Post on Latin American and international job boards.
Professional Recruiter: Seek the services of a professional recruiter.
Company Culture: Make your company a great place to work. This can attract top talent.
Outsourcing: Consider outsourcing to software development companies in Latin America.
Cost: Keep the price in mind. According to a recent Accelerance report, a software developer's salary in Latin America varies between $28-$105 per hour.


Outsourcing in LATAM

One of the most common ways to find talent. According to ISG, IT services comprise 72% of all global outsourcing contract values. Additionally, 92% of G2000 companies use IT outsourcing for various operations. IT outsourcing has become integral to the global business, driving efficiency and innovation for some of the world's largest enterprises. Here are some critical points about IT outsourcing in Latin America:

Benefits of IT Outsourcing in Latin America

Education and Expertise: Latin American countries like Mexico and Colombia have rising education standards. They focus on nurturing engineering, IT, and programming talent, resulting in a highly knowledgeable and expert workforce ready for the software outsourcing industry.
Infrastructure: Since 2005, governments and private businesses have invested heavily in Latin America, dramatically developing the region's infrastructure. This includes enhanced communication lines, digital infrastructure, and increased accessibility to the Internet.
Language Skills: Most Latin American developers are generally well-versed in English and Spanish, enabling them to cater to a larger population of clients.
Cost-Effectiveness: Latin American countries offer high-quality IT professionals at lower costs than the United States.
Proximity to the US: Hiring from Latin America means you'll be closer to the action. If you need to jump on a plane to visit your outsourced team and participate in the development cycle, you won't have to fly halfway around the world.


Best Regions for IT Outsourcing in Latin America

São Paulo, Brazil: São Paulo is the largest city in South America with over 18 million people. It has a very large tech and innovation culture, with heavy investment from companies like Google and universities like the University of São Paulo.
Mexico City, Mexico: Mexico City is the largest city in the region by far and carries many of the same benefits. There is a history of government and private companies investing to build tech talent.
Guadalajara, Mexico: Over the past twenty years, Guadalajara has seen one of Latin America's biggest startup and tech booms.
---
Mexico implemented labor reforms in April 2021, restricting outsourcing for core business activities and introducing joint liability between outsourcing and client companies for labor law compliance. Outsourcing firms must register and meet criteria to operate legally, with employees entitled to a share of profits. While non-core outsourcing remains allowed, core functions are now restricted. Staying informed and seeking legal advice is essential for businesses in Mexico.
---
A wise alternative to outsourcing in LATAM
At Unitedcode, we have carefully considered the challenges and drawbacks often associated with hiring. To ensure our client's success and satisfaction, we implement various strategies and guarantees:
Stringent Candidate Evaluation: We employ a rigorous candidate evaluation process to identify top-tier talent that matches your project requirements. Our thorough vetting process ensures that candidates possess the skills, experience, and cultural fit necessary for your project's success.
Fixed Commission Structure: We offer a transparent and fixed commission structure, allowing businesses to have clarity in their financial management. This predictable cost structure ensures you can budget effectively and make informed decisions regarding your hiring investments.
Open salaries: Our team has access to developers with competitive rates who are not on the market yet. We've opened the wages of our developers so our clients can see exactly what they're paying for. Explore our skilled engineers' rates from Latin America.
Tailored Candidates for Your Project: We recognize that every project has unique demands and may require specific expertise. Our approach focuses on matching candidates with the specific skills and experience needed for your project's success, whether it involves emerging niches or specialized development requirements.
Full Administrative Support: We understand that administrative tasks and logistical details can be time-consuming. That's why we take care of all administrative aspects, streamlining the onboarding process and ensuring a smooth transition for your newly hired talent.
Free Replacement Guarantee: We stand behind the quality of our candidates. We offer a free replacement guarantee if an issue arises or you're not fully satisfied with a hire. This guarantee underscores our commitment to your project's success and long-term satisfaction.
Conclusion
Latin America's IT sector is growing, mirroring the global trend of increased IT spending. The region is an attractive investment destination with a projected Compound Annual Growth Rate (CAGR) of approximately 6.5% from 2023 to 2028. In 2021, Latin America saw a significant influx of venture funding, making it the fastest-growing region globally. Brazil leads the Latin American IT market with a market value of $45 billion. The region embraces game-changing technologies like blockchain, IoT, and 5G networks, positioning itself as a pivotal player in the global IT landscape.
However, the rise in demand for IT specialists in Latin America brings its own set of challenges. The talent shortage is evident, with high competition for qualified professionals. Language differences and cultural nuances can sometimes pose communication challenges. To navigate these complexities, businesses must conduct thorough research, leverage local universities and tech schools, utilize job boards, and collaborate with professional recruiters. Understanding the legal and tax regulations of specific countries within Latin America is also crucial for successful outsourcing.
UNITEDCODE has carefully considered the challenges often associated with hiring in the region, and we have implemented various strategies and guarantees to ensure their clients' success and satisfaction. We employ a rigorous candidate evaluation process to identify top-tier talent that matches specific project requirements. Unitedcode offers a transparent and fixed commission structure, providing businesses with clarity in financial management.
Additionally, UNITEDCODE tailors candidates to match the unique demands of each project, whether it involves emerging niches or specialized development requirements. We also provide full administrative support, streamlining the onboarding process and ensuring a smooth transition for newly hired talent. We offer a free replacement guarantee if issues arise or clients are unsatisfied with a candidate, emphasizing our commitment to long-term project success.