IT Outsourcing to Albania, Bulgaria, Romania: Outsourcing Countries Overview in 2022
There are many pieces of our planet that are undervalued. Take Southeast Europe, for example. Let's be honest, we don't know much about this region, nor about the state of technological advancement and software development there. Sure, this region has a smaller share of the global market for offshore outsourcing of IT and business processes. However, studies show that in the shadow of India, Malaysia, and the Philippines, the potential of Southeast Europe is enormous.
This hidden gem is especially attractive to U.S. and Western European companies. And it's not just a matter of geographic proximity. Unlike in India or Southeast Asia, there is no language problem here, and the culture of doing business tends to be of the more "Western" type. This is a real Klondike of professionals mentally close to you, who are just waiting to take on your project.
So let's look at the main outsourcing countries in Southeast Europe, namely Bulgaria, Romania, and Albania, and try to answer the question of which one is more promising for IT projects outsourcing. Read on!
Albania, Romania, Bulgaria: General Overview
Southeast Europe is a rather specific region, quite often quite in vainly forgotten. In the 21st century, each of these countries was actively looking for ways to develop its economic and social aspects. And they found it!
In all three cases, one of the key drivers of the economy was the IT industry. The posh conditions for Western investors and partners, as well as an educated population and empty markets, did their job, and the countries attracted hundreds of customers through IT projects. How did they do it? Well, there are several reasons.
a) Time zone
6 hours different from the U.S., which gives more than 5 hours overlap of working hours. So you can easily discuss the previous day's tasks and plan or discuss the next tasks. And if the company is in Europe it doesn't even need to be discussed, because you are already in the same time zone.
b) University rankings.
Albania, Bulgaria, and Romania all have many ranked institutions with high world-class educational standards. This allows their clients to hire engineers to solve complex architectural problems.
You can make sure for yourself here: www.scimagoir.com.
c) Language or cultural difference
In short, there is none. This is why Eastern Europe is especially attractive to American and Western European companies. Here, unlike in India or Southeast Asia, there is no language problem: many professionals speak English, French, and German.
d) Rates
And this is probably the meat of the matter. In the countries that have recently joined the European Union (Romania, Bulgaria, etc.), labor costs are 40% lower than in Western Europe. And in the countries that are still waiting to join the EU (e.g. Albania), even by 60%.
It is worth noting that the development in Albania, Romania, and Bulgaria has been uneven. The technological, social, and economic aspects are clearly seen in the Global Innovation Index 2021 report. The number here represents the score the country gained in research of the corresponding aspect.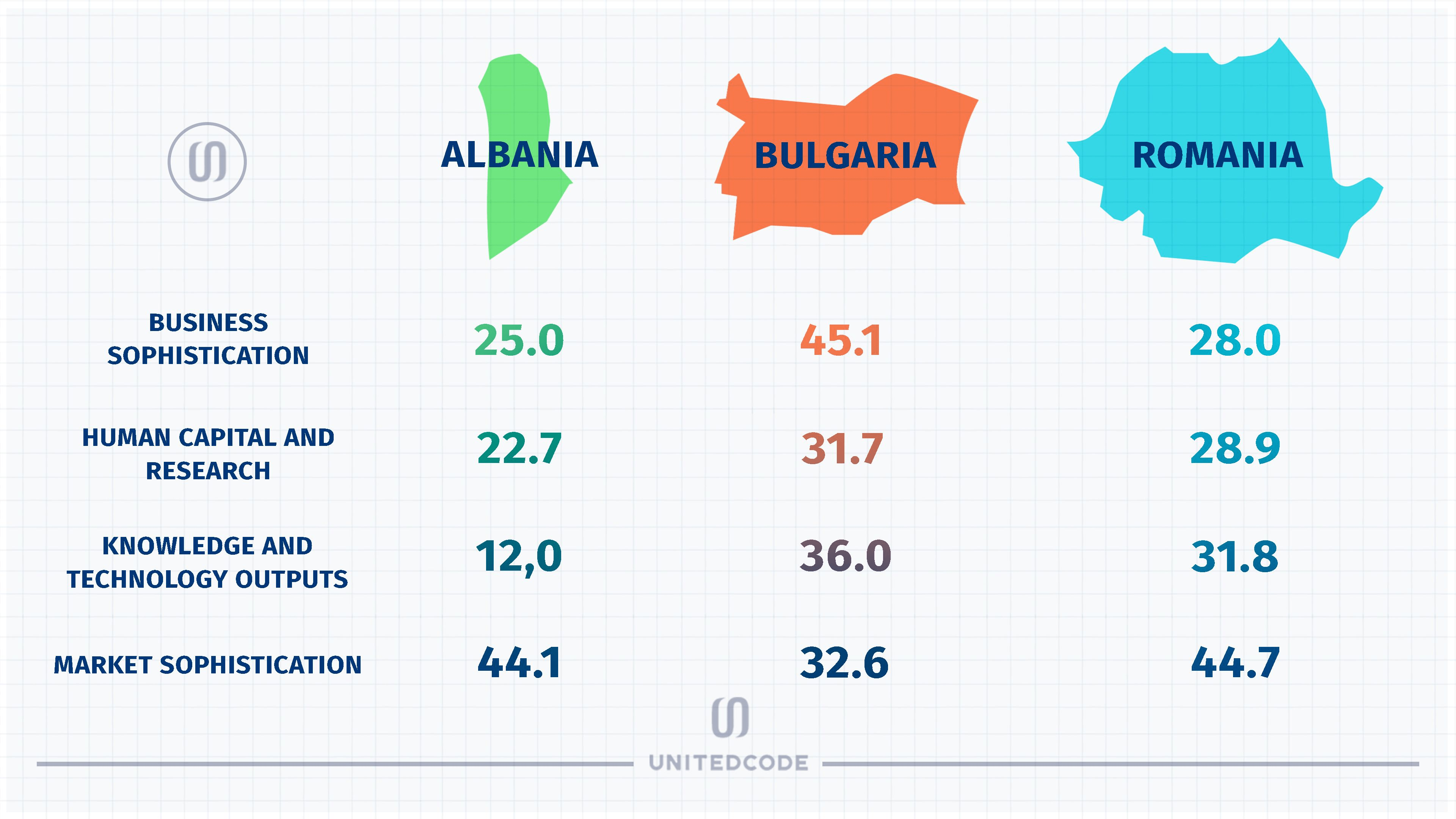 There is also a difference in the number of specialists and IT companies. You can find the data on them on the Clutch platform.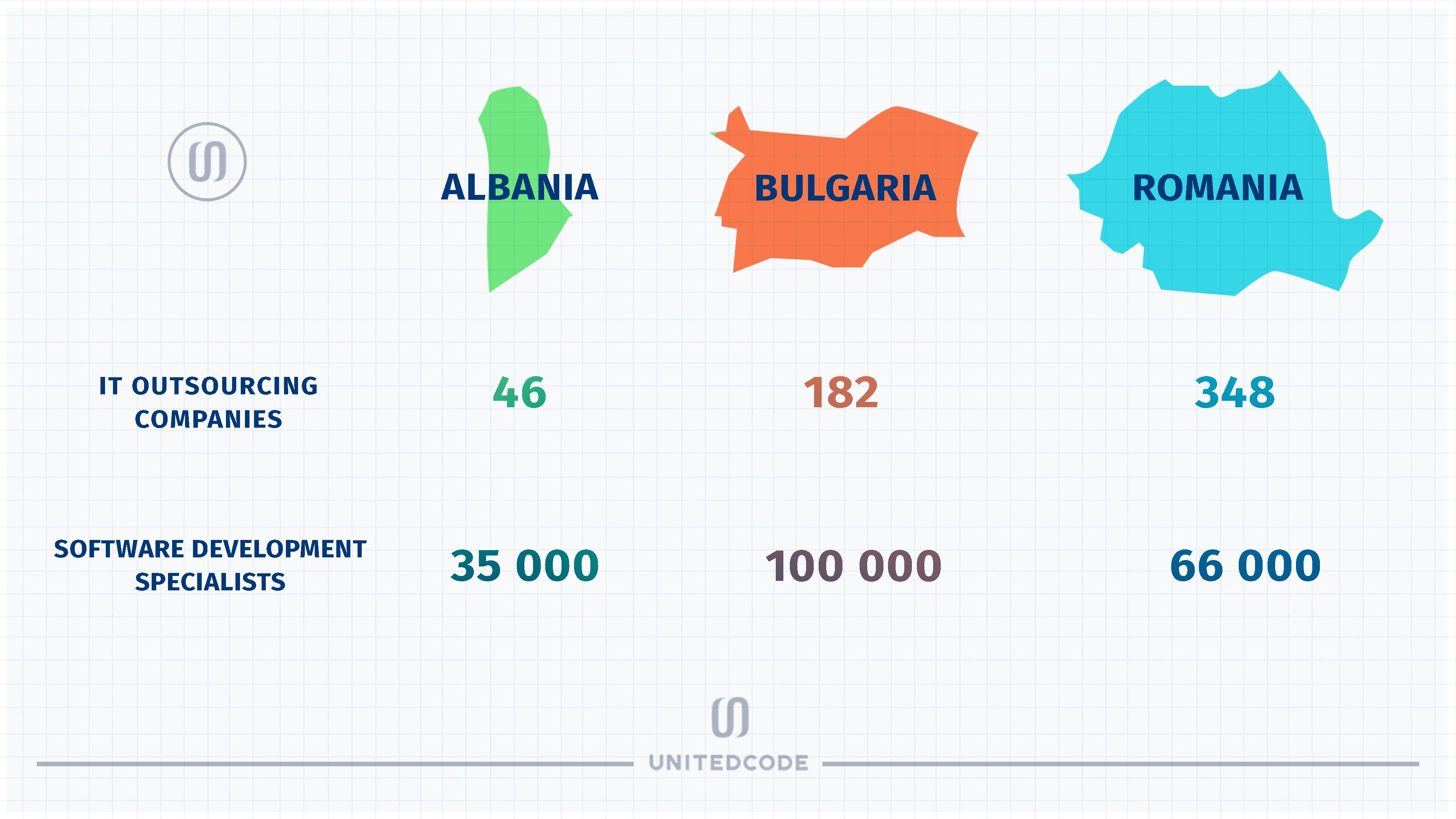 All three countries are your entry into the high-quality IT outsourcing industry and the red carpet is already laid out, and professionals are just waiting for you to contact them (before your competitor does). Let's take a closer look at each of them and understand what attracts customers to them, and what, if any, disadvantages these countries have.
Albania
And the first birdie in our breakdown today is Albania. Although the average commoner often knows nothing about this country, it is quite an attractive place for software outsourcing. The country combines top geographical location, convenient time zone, penny cost of services, and prospects of economic development. In the near future, Albania should become a member of the European Union, which will only further strengthen the country's position both in the political arena and economically.
Country overview
Time zone: GMT+2
Tech talent pool: 35,000 (AIDA)
Major Technology Centers: Tirana, Durrës
Popular technologies: Java, Python, PHP, .NET (AADF)
Average monthly salary: $864/month
Well-educated population with about 160,000 annual university enrollment.
15 public universities and 25+ private universities.
IT technology is the fastest-growing sector of the republic's economy.
Hardware is the largest segment, with 55% percent.
The ICT market in Albania is the second-largest segment with 30%.
Software represents 15% of the ICT market.
Also, Albania's outsourcing industry contributed 2.1% to the country's GDP and employed 5713 people in the year 2018, the expectations for the year 2022 are to exceed 15.000 jobs related to this sector.
Domains
The key domains for IT outsourcing in Albania are as follows. The data is taken from the Clutch platform. The number refers to the number of companies involved in development in this sector.
Electronic Systems & IoT -3
Healthcare & Pharmaceuticals - 1
Embedded Automotive Systems - 1
Digital Transformation Solutions for SMEs - 28
E-commerce Software - 6
Business climate
Albania, which pursued an isolationist policy until the early 1990s, became a NATO member in 2009 and an EU candidate in 2014. Today, Albania's future is unambiguously bright and the country is following the list of world leaders by leaps and bounds.
Albania's ruling class remains optimistic, with Prime Minister Edi Rama saying on the eve of the April 25, 2021 elections that in the next 10 years the republic is seen as "a Balkan champion in tourism and agro-tourism, energy and agriculture, as well as in the rapid provision of quality digital services. Well, we willingly believe it!
Risks
The main risks companies face when working with Albanian IT contractors are:
The small number of specialists
Little state interest in the industry, and therefore a lack of support
Low level of specialists' skills
Romania
In contrast to our previous point, Romania is already a true powerhouse of IT outsourcing. Many global companies, including Intel and Oracle, are opening offices here, investing in call centers, software development, and technical support. Maybe, your competitors are already doing that, too.
Brainspotting, a labor market research company, published data showing that Romania, with a population of only 20 million, is among the top 10 countries with 95,000 certified IT professionals in the world, half of whom are developers. Nearly 90 percent of Romanian IT professionals are proficient in English.
World-renowned IT companies have already turned their eyes towards Romania. In 2012, Twitter acquired Summify, founded by entrepreneurs from Vancouver. In 2013, the American Francisco Partners bought the Bucharest-based commercial startup Avangate. In 2014, Facebook acquired Live Rail, co-founded by Romanians. In 2015, 8x8 absorbed Quality Software Corporation with a development center in Romania.
Country Overview
Time zone: GMT+2
Tech Talent Pool Size: Over 100,000
Major technology centers: Bucharest, Cluj-Napoca, Iasi, Timisoara.
Popular technologies: JavaScript, NodeJS, .NET, C#, ReactJS, PHP
Average monthly salary: about $1200/month
41 Technical Universities in Romania graduate more than 7,500 engineers and computer science specialists each year.
Software development outsourcing in Romania boasts a 15% annual growth rate. In 2018 the tech branch growth had accelerated and reached $4.5B, with a 13.4% CAGR in this industry.
Export of software and IT services makes 1.9% of Romanian GDP.
Domains
The key domains for IT outsourcing in Romania according to Clutch are distributed as follows. The number means the number of companies involved in developments in this sector.
Electronic systems and IoT - 30
Healthcare and pharmaceuticals - 59
Embedded automotive systems - 18
Digital transformation solutions for small and medium-sized businesses - 118
E-commerce software - 136
Business Climate
Romania is a member of NATO and the EU. With one of the fastest-growing economies in the EU, according to the World Bank. Romania has also consistently ranked as a leader in high-speed Internet quality.
Since 2001, the government has exempted IT workers from taxes, depending on the number of their employers' contributions. This fact attracts more and more new specialists to the field of technology. At the same time, Romania remains one of the poorest countries in Europe, although IT salaries are 3 and more times higher than the average.
Risks
The main risks when working with Romanian outsourcing IT companies are:
Communication
Differences in culture
Time zone differences
Bulgaria
In Bulgaria, the demand for IT specialists has continued to exceed the supply for several years. According to dev.bg (a labor exchange for the IT community) from March to November 2021, demand has almost doubled. As of December 2021, there were about 5,700 listings on the site.
A lot of firms in the country work for the international market. Europeans open offices here to pay less for an office and save on developers. Companies from the Balkans and Eastern Europe do it to make it more convenient to work for the European market.
Country Overview
Time zone: GMT+2
Tech talent pool: more than 66 000 (AIBEST)
Major Technology Centers: Sofia, Varna, Burgas.
Popular technologies: JavaScript, NodeJS, .NET, PHP.
Average monthly salary: about $650/month.
38 academic institutions with over 10,800 students graduated in software development and computer science in the 2015-2020 period.
IT outsourcing industry in Bulgaria is expanding at a CAGR of 15.6%-almost twice as fast as the industry average.
Many large international companies have established their offices in Bulgaria, including IBM Bulgaria, VMWare Bulgaria, SAP Labs Bulgaria, Experian Bulgaria, and others.
Domains
According to the platform Clutch, in Bulgaria the following number of companies operate in the key areas of IT outsourcing. The number means the number of companies engaged in developments in the relevant sector.
Electronic Systems and IoT - 16
Healthcare and pharmaceuticals - 30
Embedded automotive systems - 6
Digital transformation solutions for small and medium-sized businesses - 84
E-commerce software - 84
Business Climate
Bulgaria is a member of NATO and the EU. Its excellent fiscal climate and lack of government pressure offer the lowest corporate tax rate in the EU at 10%. The economy of the country aims at increasing the number of private enterprises, free-market initiatives, and reducing the number of state-owned firms. In addition, Bulgaria has a strategically advantageous geographical location and an optimistic forecast of the country's financial stability.
Risks
The main risks of working with Bulgarian outsourcing IT companies are:
Overheated IT market
Language barrier
Differences in culture
Time zone difference
Final thoughts
So, it's time to summarize. As you can see, Albania, Bulgaria, and Romania are quite attractive destinations for outsourcing IT projects for a reason. All three countries are characterized by the low cost of the services and by the high quality of performance. Moreover, the governments of these countries see the prospects of this direction and are promoting the development of IT outsourcing in every possible way.
Do you need to create software with minimal expenses? No problem, just pay attention to Albanian outsourcing companies! Planning to create a more complex project and are willing to invest a little more? Bulgarian and Romanian teams will be an excellent choice! The possibilities are endless.
Many customers from Western Europe and the USA have already had a chance to appreciate all the joys of cooperation with South-East European countries. Perhaps now it is your turn to do so. However, you will need a reliable partner who knows all the details of cooperation in the region and will help you select the best option out of all possible variants, based on the needs and goals of your business, in order to choose a really good outsourcing company. And that is exactly what UNITEDCODE does. Contact us and we'll find the best contractor for your project together.