User's Complete Guide to Start-Ups: Tips & Tricks from Those Who Survived
Everybody dreams about launching their own business. The idea is to stop working for someone and finally dedicate your life to things that you enjoy. The trendiest word in the field of business today is "startup," and there are some good reasons behind it.
At the same time, this word is often associated with risks as, according to the statistics published by Forbes and other authoritative sources, only 50% of all startups survive in their 4th year, while the overall failure rate equals 44%. However, until 2014, these figures looked more dramatic. Since then, a lot has changed, and around 80% of the startups manage to survive their first year successfully.
Still, the question is whether startups are more about threats or opportunities and whether it is worth investing your time and money in this sort of business? We will try to figure it out in our article, which contains everything a dummy should know: from a definition of a startup and its types to the risks and opportunities associated with this phenomenon.
What Is a Startup? Definition, Types, and Purposes
By mistake, many people still view startups as another definition for a small business. However, there is a big gap between these two terms. Mostly, those are structural and conceptual nuances.
Most of the startup gurus have agreed on one universal definition for a startup. They identify it as a temporary company developed to search for a repeatable and scalable business model that would suit its business needs and goals. As for the small business, it is based on a fixed model. Speaking about the major concepts of a startup, they include:
Providing a vision of a good or service with specific features;
Realizing if the chosen model is the most appropriate solution after evaluating client behavior and forecasts;
Developing the series of sceneriоs of the model regarding consumers, distributions, and organizational budget.
To understand the ideology of a startup better, it is a good idea to have a look at each of the major types of this organization.
Small Startup
To feed the young family, many teens launch small business startups. Such a type of entrepreneurship is not meant to scale. The examples of it include:
Grocery stores
Barbershops
Bakeries
Travel agencies
Scalable Startup
Unlike the previous type, this one is meant to grow big if not huge. You may wonder, but such giants of modern e-commerce as Uber and Facebook used to be startups, and they refer to this category. The main idea is to create an organization that would have a global impact.
By hiring the most talented staff, such companies guarantee themselves a bright future. A scalable business model is what each team of this type is searching for endlessly. In many cases, such organizations team up to form so-called innovation clusters and increase their revenues (e.g., Boston).
Lifestyle Startups
Unlike the previous two, this one requires no more than a single person. Some freelancers can belong to this category. The self-employed guys keep on living the lives they used to without attending any physical offices and working according to a fixed schedule. They make all decisions on their own. Those could be freelance writers, coders, custom software development experts, IT vendors, bloggers, etc. Usually, those are experts who can combine work with their hobbies.
Huge Companies
Startups can be just big corporations. Their motto is, "Innovate something or go away!" Large organizations tend to have a finite duration of life. Google and Android could be the best two examples in this category. Such companies usually consider the following factors:
New tech and innovations
Client preferences and tastes
Legal nuances
Competitive analysis
To survive, these corporations have to introduce something new and demand it all the time.
Startups That One Can Buy
Also, there are startups that can be purchased. Examples could be young mobile and computer software, developers. If they are more or less successful, larger companies can become interested in buying them. So, the initial aim of such startups is to be sold at the most beneficial price and conditions.
Social Startups
The heart of this category is mission — difference. Those are mostly selfless organizations that try to make a world better not in a material sense, but rather in moral and ethical ways. Those are non-profit-oriented companies or groups.
You should never feel ashamed of being called "a startup." Tesla, Google, Twitter — they all started this way, and you know the results so far.
Perhaps, you have already noticed the category which is right for you. Do not hurry — we have more information and tips to provide, so relax and keep reading!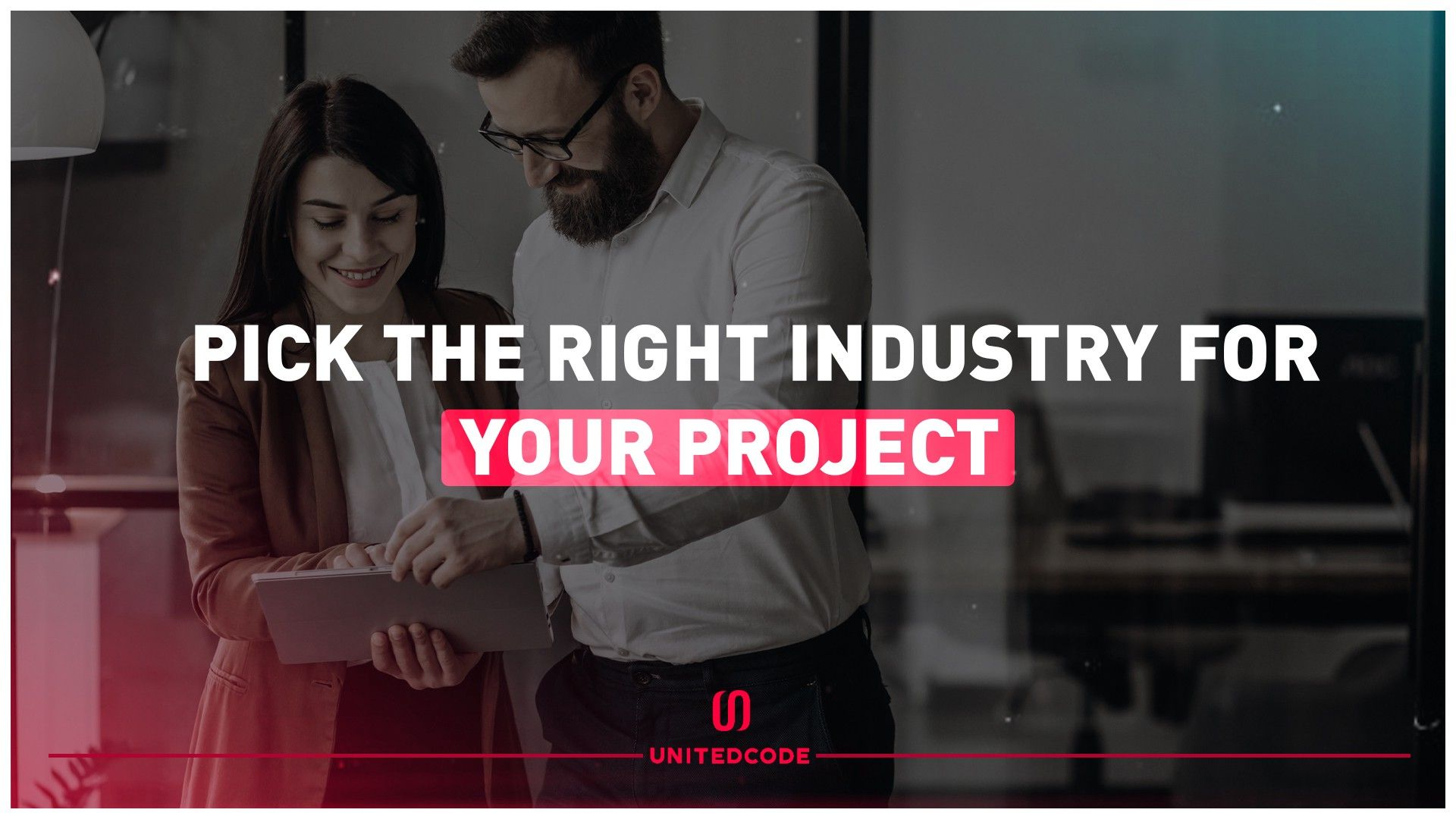 How to Pick the Right Industry for Your Project?
Off you go, you should have an overall idea of where to go. It is critical to decide on the industry before picking a product and service. If one asks about your good/service, you should be able to discuss the market niche in general, not just what you offer. It will show your company as a team of experts and raise the credibility level.
It is better to select narrower spheres as it is difficult to survive in broad areas. You should not also try to kill two birds with one stone; it is better to start with a single project, and then to expand depending on its success. It is impossible to ignore the competition: perhaps, your product will make no sense as there are more efficient alternatives. Be sober when evaluating your own efforts. In addition, think about whether your product or service will still be useful once you launch the company as the modern world is highly dynamic.
Those were just general recommendations, and now it is time to dig a bit deeper. We have consulted several gurus of startups to come up with a list of tips that might help to pick the right industry. Of course, you should not ignore your preferences and passions but consider these steps as well.
Personal Expertise
Think about things that you love that can play you in hand. If you hate writing, for example, most probably, you won't succeed with a writing agency. If you know how to deal with money, trading them might be a good option for you. Some skills like communication are essential for almost every business, so it is essential to develop and train them.
Analysis of Demand
Find the latest statistical analysis to see how various products and services are demanded and who exactly needs them. Check out how many people are actually willing to buy a good or service you would like to offer. Extensive market research, polls, surveys, interviews — you can use all of these tools to find out the truth about the product/service of your interest. Also, assess the desires, needs, requirements, and preferences of your target audience (first, you have to define it). It will allow gaining a larger market share at the initial stages.
Competitive Analysis
It is essential to come up with a unique selling proposition. If you have a service that is already in place, and you still want to overbeat the existing rivals, you should add some special features to catch the eye of your audience. Those could be the initially lower prices or add-ons that other services like yours lack. For example, if you launch a service where businesses and individuals can hire software developers, let them choose an expert on their own by offering a full list of profiles for every expert. It is also a good idea to add some freebies like daily reports about the work done.
Another way is to detect the market gap and penetrate with a better pricing strategy, delivery options, payment methods, etc. One thing that can really help to grab customers from your rivals is highly responsive, skilled, and user-friendly customer support, which is available 24/7/365.
PEST Analysis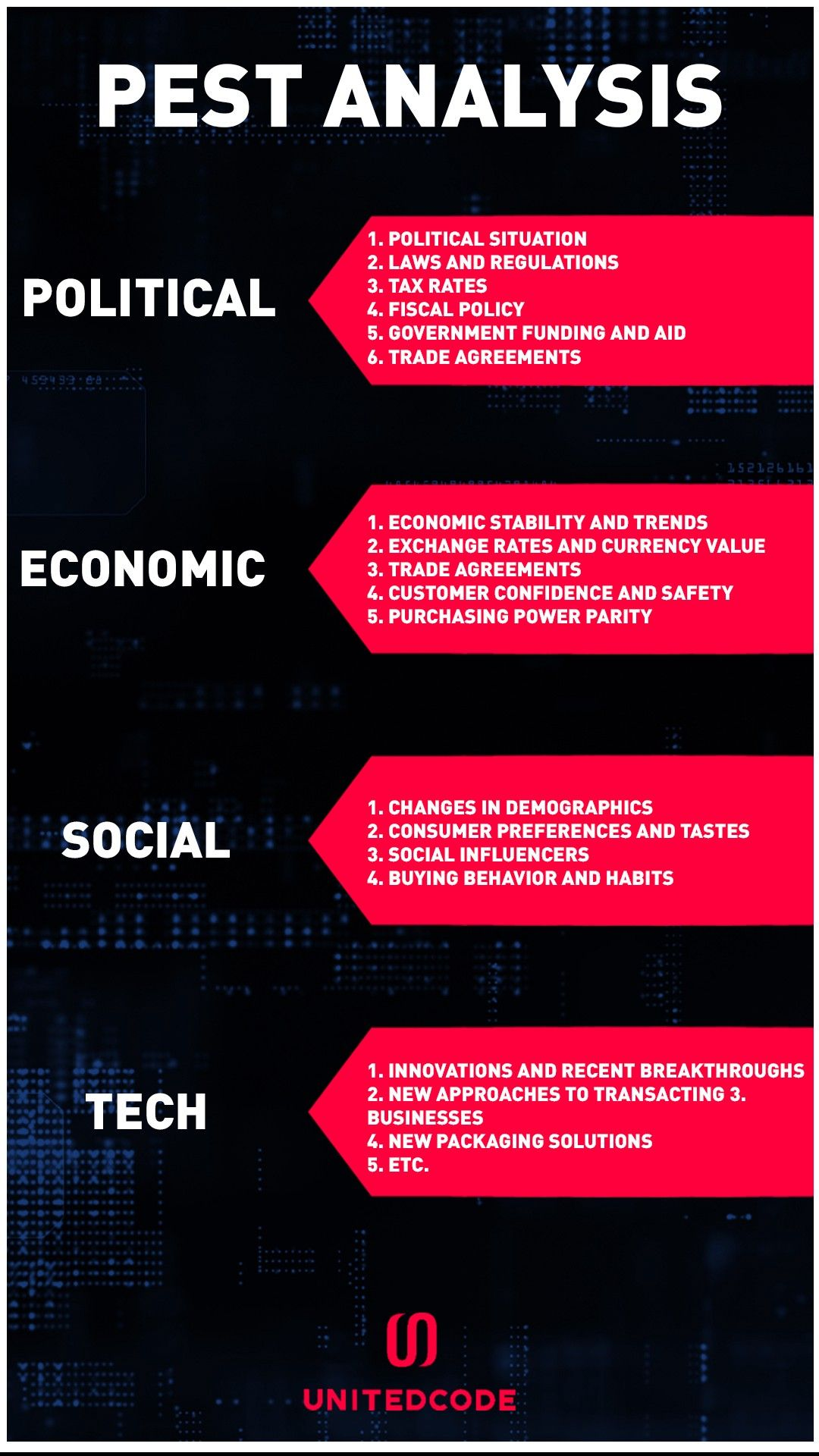 Forecasted Industry Growth
A marketing analysis, along with PEST, may provide an answer to this question. You should be aware of the official statistics related to the industry of your interest. From wages to the annual return on investment (RoI) — it all matters for your choice. It is also vital to do a so-called SWOT analysis to highlight the strengths, weaknesses, opportunities, and threats for your project. If you plan to deal with trading traditional or cryptocurrencies, for instance, the knowledge of forecasts for an industry is a must-have.
How to Analyze Competitors for Your Startup: Brief Instruction
Without a competitive analysis, you will have no idea what to expect from your rivals. Perhaps, it will make no sense to enter the market with your product or service, or, at least, it will make no sense without a unique selling proposition (USP). This type of assessment is critical to predicting the possible reaction to your offer. A competitive analysis should cover five major factors:
The company's direct and indirect rivals.

Competitor product/service summaries.

Competitor strengths & weaknesses.

Their opportunities and threats.

The strategies used by each competitor to achieve their business goals.

The market outlook.

There is no better way to understand and forecast business than answering a set of relevant questions. We have prepared a special checklist of the essential questions for you! These questions all refer to your competitors.

Are they, monopolists? If other competitors in your niche are missing, your only rival might be too powerful and have a right to dictate prices.

Do your competitors have world-recognized brands? You have lower chances to win if they do.

Is their good/service large-scale? Your rivals have to invest plenty of money in design, development, support, etc. Evaluate your chances against them soberly.

Exploring the official websites of your competitors alone is not a good idea. You may observe testimonials without knowing that they are fake. You should try to find independent reviews and feedback from real customers on websites different from the official website of your competitor. Customer opinion is what really matters. Perhaps, some of your friends or colleagues are using the goods and services of your rivals. Such services as G2Crowd, FinancesOnline, Capterra.Com, and others may be useful for your research. You can find plenty of free customer insights over there.
Always keep in mind that there can be competitors that are unknown to you. Sure, the chances that they represent some kind of a threat are small, but we recommend collecting as much information as you can.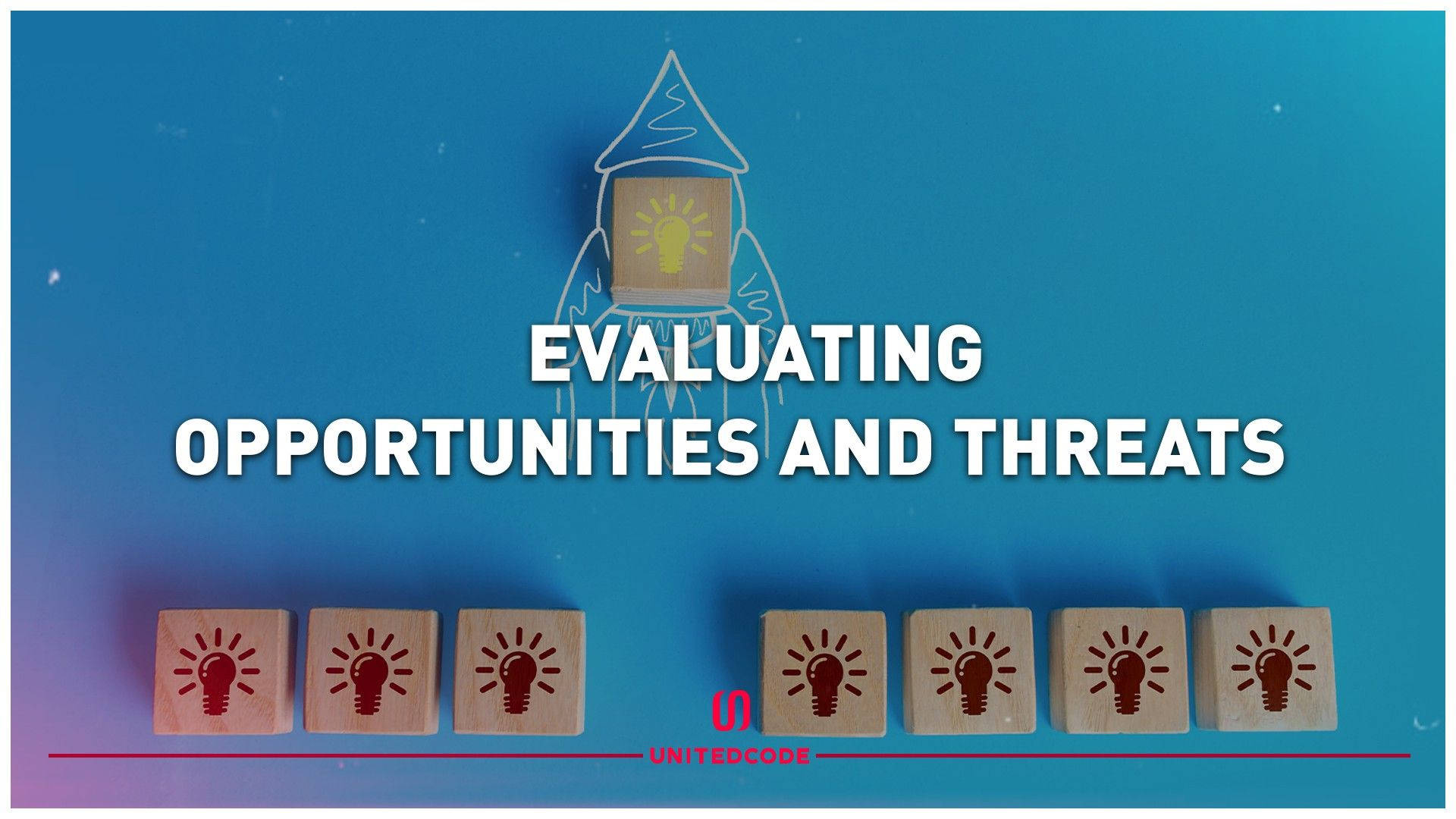 Evaluating Opportunities and Threats of Launching a Startup
You should be aware that you risk losing all of your investments at the initial stages if the project fails. During the first operating year, you should be ready to work 12+ hours to achieve success and cover your expenses as fast as possible. Perhaps, you will have to refuse your basic job unless it is part-time or freelancing work.
The first stage is the so-called 3F meaning "family, friends, and fools." It is the main stage to survive, after which you can take a deep breath and rest a bit (sure, if you get the expected RoI within the set timeframes). The last "F" in this row is something you should be aware of as it refers to foolish people who put up their budgets in risky ventures.
Those are situations when entrepreneurs register their organizations with their own funds. They also pay an extra fee for the company shares, the so-called share premium. You become the main shareholder then, but, at the same time, you absorb all of the risks. On the whole, FFF stands for the initial financing that entrepreneurs obtain from the closest people, including themselves.
As for the pros of startups, there is plenty of them. You become your own boss, and you are the one to plan your future. As it is entirely your project, you are interested in its profitability, and you will invest more time and effort. That is the best motivation which you might lack when working for someone. You know that either you will earn a lot of money by making your project successful or selling the project later to a huge corporation. Only if you manage to create a profitable, stable company, someone will get interested in buying it or offering an acquisition. To sum up, here are the benefits of startups:
Agility. Startups are innovative, creative, smaller, and less structured.
Culture. A startup usually refers to strong team culture and motivation.
Efficiency. Startup companies deliver services in a highly efficient, cost-effective way.
Personalization. Startup organizations offer goods in a personalized manner. The idea is to provide each client with a positive user experience.
Versatility. Almost all of the people involved in a startup do multitasking. It helps to cut labor costs significantly.
After all, startups are mostly flexible and fun. Thus, it is time to have a look at the most valuable recommendations from experts.
Extra Tips for Your Startup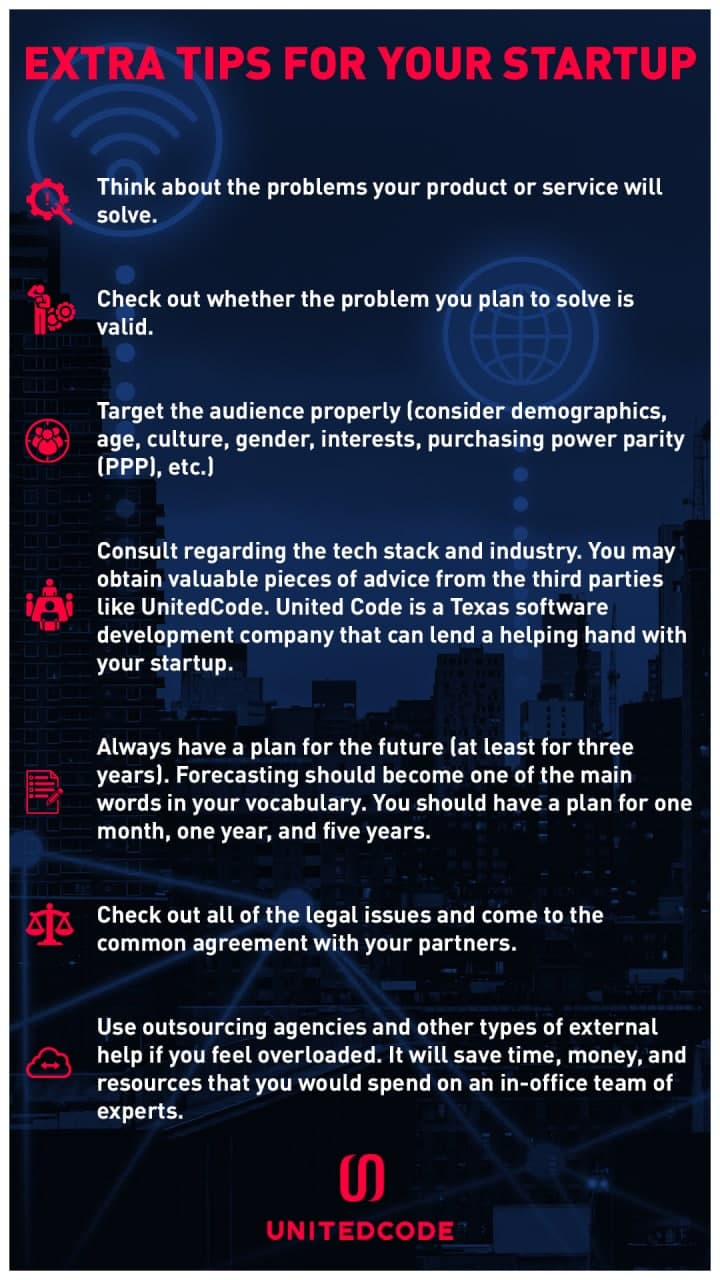 Finally, use programs and tools created especially for startups. In Dallas, Fort Worth, and Austin, for example, they have United Code, a Texas custom software development team. They can either create software for startups or test existing solutions. Also, the services and tools that you may consider include: